Dr. Gyoerkoe has co-authored three self-help books for those with anxiety and OCD-related disorders. You can order below or through Amazon.com or New Harbinger Publications. All books are available both in book format and as a downloadable PDF.

10 Simple Solutions to Worry
This book describes essential techniques to conquering excessive worry once and for all. Inside, you'll learn what worry is, how it affects you, and-best of all-how to defeat it.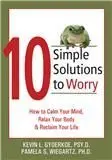 The Worrier's Guide to Overcoming Procrastination
In this book, anxiety experts Dr. Pamela Wiegartz and Dr. Kevin Gyoerkoe describe the key steps to defeating procrastination caused by excessive anxiety. Inside, you find all you need to know to overcome procrastination and achieve the productivity you desire at last.
The Pregnancy and Post-Partum Anxiety Workbook
This book is an essential resource for all women suffering anxiety, panic, OCD or worry during or after their pregnancy. Filled with useful techniques and worksheets, this book contains the keys to overcoming anxiety during this precious time in life.
We are committed to your privacy. Do not include confidential or private information regarding your health condition in this form or any other form found on this website. This form is for general questions or messages to the practitioner.